What To Expect
 …Besides a superb massage, a heated table, a delicious chocolate treat, relaxing music and beautiful decor…
New Clients
New Clients are asked to arrive 10 minutes early to fill out a Medical History Intake form to establish a baseline for therapeutic sessions and to rule out any contraindications to massage. Your time is reserved exclusively for you, so should you arrive late, your time may be shortened.
To make your visit more relaxing you can fill out the intake form in advance, just click here to download!
Returning Clients
Should arrive a few minutes prior to each session to update your current physical condition and to allow the session to be tailored to your individual needs. Your time is reserved exclusively for you, so should you arrive late your time may be shortened.
During the Massage
Draping is performed with a sheet such that only the area currently being worked on is exposed. Private areas remain draped at all times per Virginia State Law.
Professionalism
All sessions are strictly professional and therapeutic in nature and adhere to the ABMP code of ethics.
After the Massage
Take a few minutes to relax. Enjoy a cup of spring water before you leave, and remember to drink plenty of water the next day to help flush out the toxins we worked out of your muscles!
Missed Appointment Policy
Appointments canceled less than 24 hours in advance wil incur a 50% service fee. The same fee applies to No Shows. If you're running late, please let us know & we will do our best to give you as much of your appointment time remaining before our next appointment.
Gratuities
Cash, check, or to pay with a credit card you will need to download the BRAVO TIP and PAY App.  This ensures 100% of your intended gratuity goes to your therapist.
Payment
Hideaway Massage accepts cash, and credit card payments (No AMEX), personalized gift certificates from our website.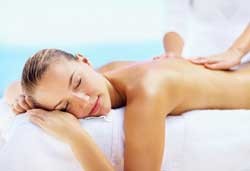 Please use Chrome or Firefox.