Fascial Stretch Therapy ™
Stiff Joints? Tight Muscles? Aches and Pains? Try Fascial Stretch Therapy™ and let Rob show you how powerful this gentle therapy can be. Fascial Stretch Therapy™ is a unique system of table based assisted stretching for optimal flexibility, strength & pain relief while decreasing stress, muscle soreness and risk of injuries.
Please wear loose fitting or athletic clothing to your session.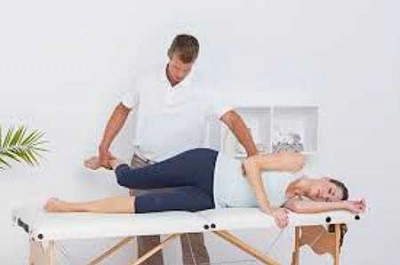 Complete FST – 90 minutes Reg. Price $140
A thorough intake and a complete assessment of your pain and any dysfunction in your body will be done. Afterwards our goal will be to take you through a full FST™ session. The session starts with the body's core, applying traction to create space in and lubricating the joint capsules. From there FST™ stretching techniques will continue through the body focusing on lengthening, decompressing and releasing various issues in the body's neuromyofasciae system.
Partial FST – 60 minutes Reg. Price $100
After a brief intake and assessment together we'll lay out a Fascial Stretch Therapy™ session that suites your needs the most. This session will usually be focused on upper half or lower half of the body.
FST add-on – 30 minutes Reg. Price $40
Make the most of your time by maximizing the benefit and relief with this interchangeable service. Use it to add 30 minutes of traditional manual massage to your FST session, or add 30 minutes of FST in areas that you need it the most to your massage session.
Complete FST Combo – 2 hours Reg. Price $200
A 2-hour session to combine a complete FST treatment with some traditional manual massage where you need it most. This service is great for the client who has more comprehensive issues to be worked through and who wants to devote the most time to getting the best results.
Please use Chrome or Firefox for Booking.
Please use Chrome or Firefox for Booking.
What is Fascial Stretch Therapy ™ (FST) ?
FST is a very unique and specialized form of assisted stretching. It is performed by a certified Fascial Stretch Therapist with a clothed client on a massage table equipped with comfortable straps to stabilize the body. FST focuses on stretching your fascial net, your joint capsules and your muscles where 88% of your flexibility can be locked away. An FST session is customized to the client to relax, or stimulate the body, mind and soul depending on the client's goals. The therapy is non-invasive; the client will experience a stretch awareness but with proper communication the therapy is pain free. FST is one of the most effective manual therapies and has been used by countless everyday folks along with professional, Olympic and amateur athletes for over 20 years with amazing success. FST is not just for athletes! It has been used to treat every day people from all walks of life, dealing with all sorts of issues. These are just some of the ways FST can help you"
Reduce the risk of injury, especially sprains and strains
Increase range of motion
Reduce or eliminate back and hip problems and pain.
Optimize the learning, practice, and performance of many types of skilled movements
Promote development of body awareness
Enhance one's physical fitness
Reduce body and muscular tension, pain and soreness
Increase balance and symmetry of the body
Improve postural and gait issues
Promote physical and mental relaxation
Increase self-discipline and self- knowledge
Release chemicals, known as endorphins that act as natural pain suppressant
Reduce shoulder and neck dysfunction and pain
Improve and correct leg length discrepancies
What you need to know about Fascia.
Fascia as defined: A sheet or net of fibrous tissue that envelops the body beneath the skin; it also encloses muscles and groups of muscles and separates their several layers or groups. Fascia is made up primarily of densely packed collagen fibers that create a full body system of sheets, chords and bags that wrap, divide and permeate every one of your muscles, bones, nerves, blood vessels and organs.
In fact, there are very few things in the body that are not wrapped by fascia. Fascia can easily be thought of as the largest structure in the body but has long since been the structure we know the least about. That has started to change in the last 15-20 years and great strides have been made in the world of fascia in that time. Also, despite being the largest structure in the body, manual work on the fascia in the world of therapeutic bodywork has been lacking. While there are some modalities that focus on it in localized areas of the body, as a whole, our fascial network is most usually in need of attention.
The attached video does a great job of giving a visual and verbal demonstration on fascia with the use of cadavers.
Additionally, with FST, athletes at all levels have seen increases in their performance in the following areas.
Speed
Vertical jump
Strength
Balance
Coordination
Flexibility